Following the outstanding success of its pantomime before Christmas, Stowmarket Operatic & Dramatic Society's spring play will be the thriller Something To Hide, by Leslie Sands.  His gripping murder mystery is set in a converted toll house in a small Essex village, the part-time home of successful novelist, Howard Holt, and his wife Karen, who is also his publisher. This crime story is un-missable! The plot twists and turns repeatedly, each time in an unexpected direction that will leave the audience wondering just what will happen next. For more details Click Here.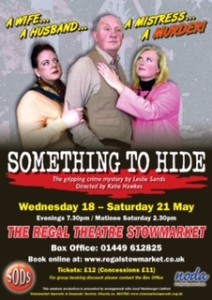 Stowmarket Operatic & Dramatic Society is affectionately known to members and friends as SODS.
Since its formation in 1922 we have performed over 170 productions. We present three shows a year, comprising a musical, a play and a pantomime. We perform in both of Stowmarket's premier venues, The Regal Theatre and The John Peel Centre For Creative Arts.
We enjoy a variety of social and fund raising events, hold fun play reading evenings and run occasional workshops in theatrical skills. We welcome new members, young and old, off-stage and on, with or without theatrical experience, so come and join us!
To let us know that you'd like to become a member of SODS, or for more general enquiries, Click Here.