Watch the promo for our latest show…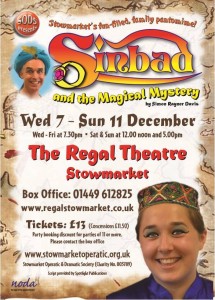 Sinbad & The Magical Mystery
Stowmarket's fun filled family pantomime!
A new type of hero, a feisty princess, a sorcerer who's up to no good and a troop of, well…. Teletubbies! What can it all mean? Yes, it's nearly panto season again!
SODS' sparkling production of Sinbad & The Magical Mystery, by Simon Rayner Davis,is a traditional pantomime, full of slapstick, silly jokes and songs to delight the whole family.
It will run at The Regal Theatre, Stowmarket, from Wednesday 7 – Sunday 11 December, that's a week earlier than in recent years, with evening performances at 7.30pm on the Wednesday, Thursday and Friday, plus shows at 12 noon and 5pm on both Saturday and Sunday.
Tickets are already on sale from The Regal Theatre box office: 01449 612825 or book online at www.regalstowmarket.co.uk For the past five years SODS' pantomimes have enjoyed sell-out success so book your tickets early to avoid disappointment!
Dragunda, the meanest and mightiest magician in the world, is looking to rule the universe but to do so must obtain three different feathers from three different birds on three mystical islands. However, only someone honest, pure and true can undertake such a task – which is where our hero, Sinbad, comes in!
Dragunda kidnaps Princess Yasmin, the love of Sinbad's life, and will only release her when Sinbad has captured all three feathers. Along the way Sinbad, his mum Mrs Sinbad, plus Cap'n Pugh and his crew (who bear more than a passing resemblance to the Teletubbies) encounter all manner of adventures on the Isle of Juven, in No Man's Land and on Oomagoolee Island.
Come and join in the fun and frolics, with plenty of chances to cheer and boo in true family panto fashion – it's the perfect way to begin your Christmas celebrations!
Stowmarket Operatic & Dramatic Society is affectionately known to members and friends as SODS.
Since its formation in 1922 we have performed over 170 productions. We present three shows a year, comprising a musical, a play and a pantomime. We perform in both of Stowmarket's premier venues, The Regal Theatre and The John Peel Centre For Creative Arts.
We enjoy a variety of social and fund raising events, hold fun play reading evenings and run occasional workshops in theatrical skills. We welcome new members, young and old, off-stage and on, with or without theatrical experience, so come and join us!
To let us know that you'd like to become a member of SODS, or for more general enquiries, Click Here.