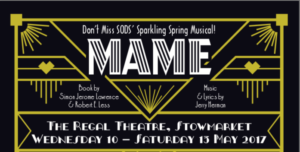 If you've ever wanted to be part of a stage musical, this is your chance!
S.O.D.S (Stowmarket Operatic & Dramatic Society) is about to cast its spring production of the Broadway hit, 'Mame', and new members are welcome. Open read throughs, to explain all about the production, will be held on Tuesday 17 and Thursday 19 January at 7.30pm at Red Gables in Ipswich Road. Open auditions will be held on Sunday 22 January and the show will be performed at The Regal Theatre, Stowmarket, from 10 – 13 May.
If you are interested in joining S.O.D.S. and taking part in this and future productions, either on stage or behind the scenes, please email 
stowmarketods@gmail.com, just turn up at a read through
Stowmarket Operatic & Dramatic Society is affectionately known to members and friends as SODS.
Since its formation in 1922 we have performed over 170 productions. We present three shows a year, comprising a musical, a play and a pantomime. We perform in both of Stowmarket's premier venues, The Regal Theatre and The John Peel Centre For Creative Arts.
We enjoy a variety of social and fund raising events, hold fun play reading evenings and run occasional workshops in theatrical skills. We welcome new members, young and old, off-stage and on, with or without theatrical experience, so come and join us!
To let us know that you'd like to become a member of SODS, or for more general enquiries, Click Here.