Don't miss our 2015 Pantomime! Robin Hood & Babes in the Wood at The Regal Theatre, Stowmarket, from Wednesday 16 – Sunday 20 December 2015.
Filled with family fun and frolics – for the last 3 years our pantomimes have enjoyed sell out success – so please book your tickets early to avoid disappointment!  Tickets on sale NOW from the The Regal Theatre Box Office: 01449 612825. For more details about the show Click Here.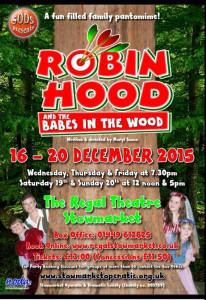 Stowmarket Operatic & Dramatic Society is affectionately known to members and friends as SODS.
Since its formation in 1922 we have performed over 170 productions. We present three shows a year, comprising a musical, a play and a pantomime. We perform in both of Stowmarket's premier venues, The Regal Theatre and The John Peel Centre For Creative Arts.
We enjoy a variety of social and fund raising events, hold fun play reading evenings and run occasional workshops in theatrical skills. We welcome new members, young and old, off-stage and on, with or without theatrical experience, so come and join us!
To let us know that you'd like to become a member of SODS, or for more general enquiries, Click Here.