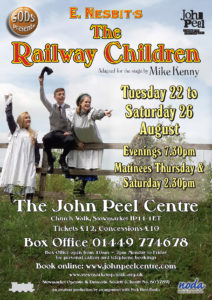 SODS' Summer Treat – 'The Railway Children'
Tickets for SODS' eagerly awaited summer production of 'The Railway Children' are SOLD OUT for Tues & Thursday, tickets still available for Friday & Saturday!  Take a look at some of the action in the photos on our next production page.
One of the best loved children's novels, 'The Railway Children', by E. Nesbit, adapted for the stage by Mike Kenny, enjoyed long professional runs initially at York then at London's Waterloo and King's Cross stations.
Stowmarket Operatic & Dramatic Society will present the play at Stowmarket's John Peel Centre from Tuesday 22 – Saturday 26 August with performances at 7.30pm and matinees on both Thursday 24 and Saturday 26 August at 2.30pm.
Set in 1905, the heart-warming story shows the importance of family life and of kindness to strangers. It will be performed in the exciting 'in-the-round' format, with the actors close to, and surrounded by, the audience which will be seated on all four sides of the acting area.
When their father is taken away by mysterious strangers, Bobbie, Peter and Phyllis are forced to leave their privileged London life for a humble existence in the Yorkshire countryside. Living close to a railway line, the children and their mother soon discover adventure, new friendships and, ultimately, renewed happiness.
Children will love this imaginative production and adults may shed a tear – 'The Railway Children' will be a summer holiday theatrical treat for all the family!
Seating capacity is limited so early booking is advised. Tickets £12, Concessions £10, are available from The John Peel Centre box office, 01449 774678, which is open from 10am – 2pm Monday to Friday for personal callers and telephone bookings. You can book online at www.johnpeelcentre.com/event/sods-present-the-railway-children
Stowmarket Operatic & Dramatic Society is affectionately known to members and friends as SODS.
Since its formation in 1922 we have performed over 170 productions. We present three shows a year, comprising a musical, a play and a pantomime. We perform in both of Stowmarket's premier venues, The Regal Theatre and The John Peel Centre For Creative Arts.
We enjoy a variety of social and fund raising events, hold fun play reading evenings and run occasional workshops in theatrical skills. We welcome new members, young and old, off-stage and on, with or without theatrical experience, so come and join us!
To let us know that you'd like to become a member of SODS, or for more general enquiries, Click Here.