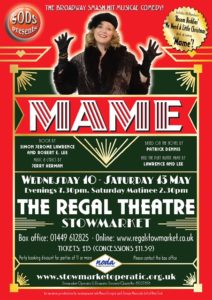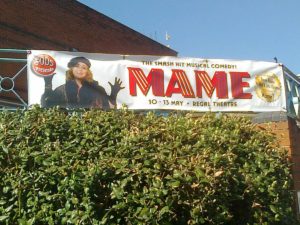 The madcap life of eccentric Mame Dennis and her bohemian, intellectual arty clique is disrupted when her deceased brother's 10-year-old son Patrick is entrusted to her care. Rather than bow to convention, Mame introduces the boy to her free-wheeling lifestyle, instilling in him her favorite credo, "Life is a banquet, and most poor sons-of-bitches are starving to death." Also figuring in the story line are Mame's personal secretary and nanny-in-law, Agnes Gooch; her "bosom buddy" Vera Charles, the baritone actress and world's greatest lush; and Dwight Babcock, the stuffy and officious executor of Patrick's father's estate. Mame loses her fortune in the Wall Street Crash of 1929 and tries her hand at a number of jobs, with comically disastrous results, but perseveres with good humour and an irrepressible sense of style.
Mame eventually meets and marries Beauregard Jackson Pickett Burnside, a Southern aristocrat with a Georgia plantation called Peckerwood. The trustees of Mame's late brother (Patrick's father) force Mame to send Patrick off to boarding school (the fictional St Boniface, in Massachusetts), and Mame and Beau travel the world on an endless honeymoon that finally ends when Beau falls to his death while mountain climbing. Mame returns home a wealthy widow to discover that Patrick has become a priggish snob engaged to an equally priggish debutante, Gloria Upson, from a bigoted family. Mame brings Patrick to his senses just in time to introduce him to the woman who eventually will become his wife, Pegeen Ryan. As the story ends, Mame is preparing to take Patrick's young son Peter to India with her usual flair.
Presenting 'Mame...

It's that time again, with just over a month before opening night, here it is…...

Come & Have Fun At t...

Where did pantomime come from? Why do audiences go back for more every Christmas? Com...
Stowmarket Operatic & Dramatic Society is affectionately known to members and friends as SODS.
Since its formation in 1922 we have performed over 170 productions. We present three shows a year, comprising a musical, a play and a pantomime. We perform in both of Stowmarket's premier venues, The Regal Theatre and The John Peel Centre For Creative Arts.
We enjoy a variety of social and fund raising events, hold fun play reading evenings and run occasional workshops in theatrical skills. We welcome new members, young and old, off-stage and on, with or without theatrical experience, so come and join us!
To let us know that you'd like to become a member of SODS, or for more general enquiries, Click Here.