Our next shows will be…
THE FOREIGNER and STEEL MAGNOLIAS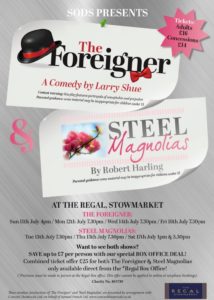 The Foreigner
is a fun, two-act comedy by American playwright Larry Shue. 
The story takes place in a fishing lodge in rural Tilghman County, Georgia where two Englishmen, Froggy and Charlie, arrive as guests. The shy Charlie agreed to accompany Froggy on the trip after his sick wife begged him to go. When people at the lodge try to talk to Charlie, however, he remains silent: he is terribly shy, depressed about his wife's illness, and cannot find the words to reply.
Froggy claims that Charlie cannot talk because he is a "foreigner" from an exotic country, and does not understand English. Taking the explanation that he's a non-English speaker as fact, the lodge's guests quickly begin revealing their secrets, and Charlie soon discovers scandals amongst some of the residents of the lodge.
SODS will be performing this delightful comedy at the newly-refurbished Regal Theatre in Stowmarket on these dates:
Sunday 11th July @ 4pm
Monday 12th July @ 7.30pm
Wednesday 14th July @ 7.30pm
Friday 16th July @ 7.30pm
Steel Magnolias
is a compelling American comic drama by the playwright Robert Harling. 
In small-town Louisiana, Truvy's beauty salon is a regular rendezvous for six extraordinary women who span the social circles of their local community. Bubbling with sharp, laugh-out-loud humour, the friends quip back and forth over life's highs and lows until a tragic event leaves them and the whole town reeling.
Steel Magnolias is part comedy of manners, part heartfelt tearjerker, featuring non-stop witty banter. Basically, a friendship comic drama, it tugs at the heart while making us laugh.
SODS will perform Steel Magnolias at the newly-refurbished Regal Theatre in Stowmarket on these dates:
Tuesday 13th July @ 7.30pm
Thursday 15th July @ 7.30pm
Saturday 17th July @ 1pm
Saturday 17th July @ 5.30pm
Tickets are £16 adults (£14 concessions) OR you can get tickets for both SODS summer shows directly from the Regal Theatre box office for a special price of £25.
Or call the box office on (01449) 612825.
***
Where We Perform
The Regal Theatre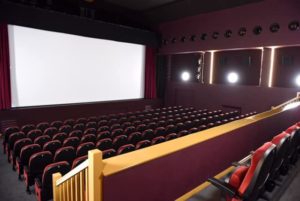 Ipswich Street, Stowmarket, IP14 1AY
Book Online: www.regalstowmarket.co.uk
Regal Theatre Box Office: (01449) 612825
Car park adjacent to the theatre, free after 6pm.
Click Here to see a Map of The Regal Theatre
we also perform at
John Peel Centre For Creative Arts

Church Walk, Stowmarket, IP14 1ET
Box Office: 01449 774678
FUTURE PRODUCTIONS TO BE CONFIRMED