Stowmarket Operatic & Dramatic Society is affectionately known to members and friends as SODS.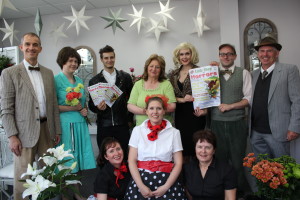 Since its formation in 1922 we have performed over 170 productions. We present three shows a year, comprising a musical, a play and a pantomime. We perform in both of Stowmarket's premier venues, The Regal Theatre and The John Peel Centre For Creative Arts.
In addition to our main productions, we present occasional concert party style entertainment to clubs and organisations, by request.
We enjoy a variety of social and fund raising events, hold fun play reading evenings and run occasional workshops in theatrical skills.
We welcome new members, young and old, off-stage and on, with or without theatrical experience, so come and join us!
Membership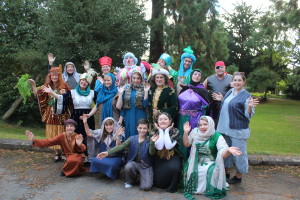 SODS is a friendly group with a reputation for presenting high quality and award winning plays, musicals and pantomimes.
We are always keen to welcome enthusiastic and talented new members aged 16 and over. Children from Year 4 – Year 13 can apply to join the SODS Youth Group (see Youth Group tab).
Take a look below at the ways in which you can be involved:
Auditions
All shows are cast through open auditions. However, before auditions begin we hold pre-audition meetings where those interested are given full information about the show and the roles available. In the case of musicals and pantomimes the songs and dance numbers to be performed during auditions will be taught and rehearsed. We know that auditions can be a bit scary so we do our best to make them as informal as possible to put you at your ease.
Rehearsals
Productions rehearse on Tuesday and Thursday evenings from 7.30pm to 10.00pm throughout the year. In the weeks leading up to the performance we sometimes plan an extra daytime rehearsal on a Sunday. Cast members are provided with a full rehearsal schedule so that they know when they will be required.
Rehearsing and presenting high quality productions is hard work but lots of fun and very satisfying. When you join SODS you will become part of a friendly group of people all of whom share the same enthusiasm and drive for creating and performing live theatre.
Social Activities
SODS members enjoy a vibrant social scene with theatre visits, quizzes, meals, parties and play reading evenings. Informal gatherings in a local pub after rehearsals are also very popular.
Membership Fees
Our annual Membership Fee is £30 per year which is paid in September.
When members take part on stage in a show they also pay an Acting Fee of £20 (£10 for anyone under 18) which contributes towards the costs of putting on that production.
Cast members will also need a script and, for musical productions, a score for which there is usually a deposit/hire charge or a purchase fee.
For full information on membership, please contact our Membership Secretary, Angela Welham-Hagan, who will be happy to give you all the details you may need. You can contact her by email at stowmarketods@gmail.com.
Helping Backstage
Would you like to get involved but not as a performer? There are numerous great opportunities for you to support the society as a member of our Set Building Team, Costume Team, Properties Team, Hair & Make-up Team and Backstage Crew
In whichever way you help you will be an important member of the team and very much a part of a production. As such you are welcome to join in with the social activities of the society.
Become a Patron
If you wish to get involved and support the society but don't wish to be on the stage or backstage, you can become a Patron for an annual minimum donation of £25. This entitles you to one free ticket to the SODS production of your choice. In addition, your name will appear in the programme for each show, you will be welcome to attend social events and and you will receive the SODS Newsletter published six times a year to keep you up to date on all that's going on in the society.